Unless you're a Gen Z'er, it's a bit challenging to know what exactly a VSCO girl is. From what I understand as a millennial, VSCO girls are obsessed with scrunchies, always use Hydro Flasks instead of plastic water bottles, brought back puka necklaces, and say phrases like "and I oop!" and "sksksksk."
Seth wanted to hear from John what a VSCO girl is, and I'm obsessed with John attempting to explain from the perspective of a guy in his late 30s.
"I'll read you some descriptions from New York Magazine [The Cut]: 'A VSCO girl is a manic pixie eco-warrior, otherwise known as an annoying white helpless romantic. They wear Brandy Melville crop tops and oversized tees that eclipse their jean shorts, and they wear a lot of scrunchies."
John then explained that their catchphrases are "and I oop!" and "sksksksk." He even spelled out the latter, noting that it's "supposed to mimic how they laugh."

"I want to say this in a non-creepy way: I'm deeply invested in the world of VSCO girls," John added.
He then showed Seth the drawing Linder made, and it's so wholesome and hilarious.
In case you can't tell what's going on in the drawing, John broke it down. "I'm carrying a Hydro Flask, which is something VSCO girls do. And I have a bunch of scrunchies, 'cause that's something VSCO girls do. And I have Carmex, 'cause VSCO girls carry chapstick."
I'm 99% sure John left Seth even more confused after breaking down VSCO girls. Just look at him!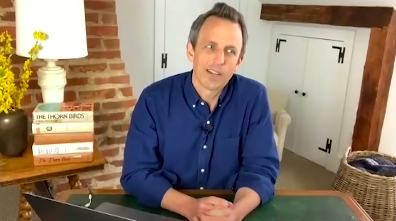 Now all I want is for John Mulaney to explain e-boys and e-girls.